Welcome to the Town of Albany New Hampshire
TOWN OF ALBANY, NH
NOTICE OF PUBLIC PROPERTY BID
     The Town of Albany will conduct a sealed bid auction for the disposal of properties as listed below.
Map & Lot #
Address
Acreage
Assessed
Value
Land
Assessed
Value
Bldg.
Total
Assessment
Minimum Bid
Map 8 Lot 7

1024 West Main St. Ext.

0.6
$27,500
$11,900
$39,400
$6,000
The Town of Albany is accepting sealed bids for the sale of property at the location listed above. All sealed bids must be received by the Albany Selectmen's office no later than Tuesday, September 6, 2016 at 12:00 p.m.  On Wednesday, September 7, 2016, at 4:15 p.m., bids will be publicly opened and read aloud in the Selectmen's office.  These properties are being offered as a result of being tax deeded by the Town of Albany and are being sold without any warranties or guaranties regarding the chain of title or condition of the real estate. The successful bidder will receive a Quit Claim Deed for the real estate acquired.  The Town retains the right to reject any and all bids and to waive any minor variations to the bidding process.
Bid packets may be picked up at the Albany Selectmen's Office, 1972-A NH Route 16, Albany or by e-mail [email protected] .
Welcome to the beautiful town of Albany, New Hampshire
Granted as Burton November 6, 1766 and incorporated as Albany July 2, 1833. Albany is home to the famed Mount Chocorua, claimed to be the most photographed mountain in the northeast. The town of Albany is comprised of 86% White Mountain National Forest.
Through the White Mountain National Forest is the Kancamagus Highway and the many parks and campgrounds that it possesses. One of the many famed campgrounds in Albany is the Covered Bridge Campground.  The Covered Bridge itself is a prized possession to the town as it is sought out by many visitors every year.
Browse our website full of information about our town.  Also, you can find applications, town ordinances, hours of operation and phone numbers.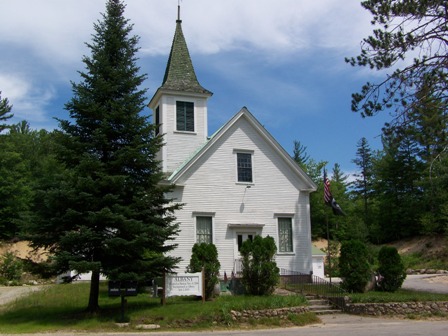 MEMBERS WANTED!!!! The Albany Planning Board is seeking two members and alternates to serve on their board.  The School Board is also looking for one member.  Please contact the Selectmen's office if you are willing to serve on one of these boards.  [email protected] or 447-6038.
Change Of Address Form
Right to Know Request form
Please complete and mail to 1972-A NH Route 16, Albany, NH  03818 or e-mail to [email protected] or fax to (603) 452-5633